About
The Sprint 15 Catamaran was originally built with the name Dart 15 which it is just returning to.
Sprint 15s are a reasonably large class within Thorpe Bay Yacht Club club (approx 25). It is a medium sized Catamaran that can be sailed whilst racing either by a single person with one Uni Sail or two crew with the additional Jib. Or unusually in Sport mode with both sails and a trapeze as one person.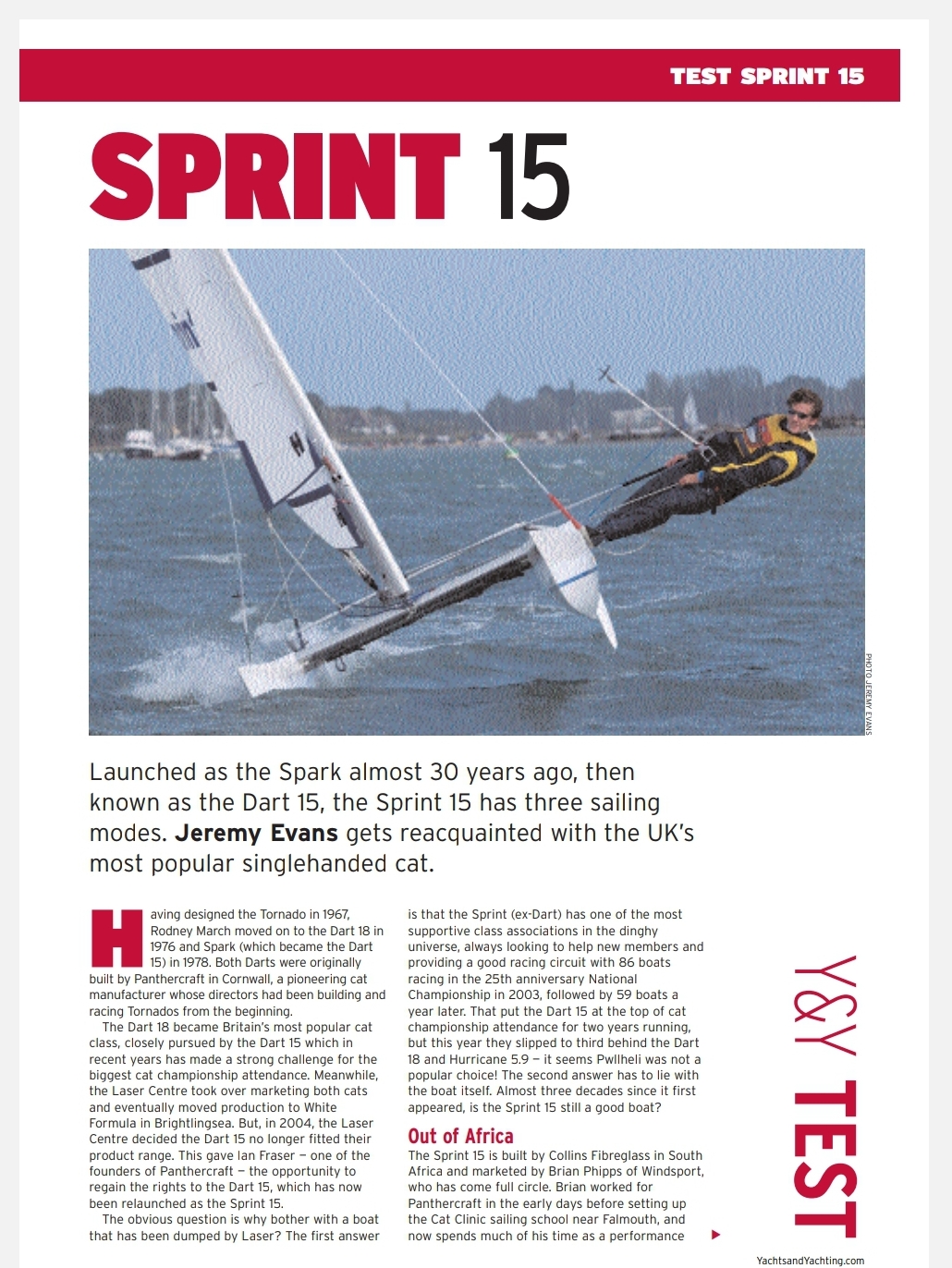 The Sprint 15 Catamaran class at Thorpe Bay Yacht Club is a thriving and active community of sailors who share a passion for this exciting and fast-paced sailing class. With a dedicated group of people who help organise and run events, as well as regular social and racing opportunities, the Sprint 15 Catamaran class is a great way to get involved in the sport of sailing.
One of the key aspects of the Sprint 15 Catamaran class at Thorpe Bay Yacht Club is the strong sense of community among its members. There is a dedicated group of people (in excess of 25) who help organize and run events, as well as providing support and guidance to sailors of all abilities. This group is always on hand to answer questions, offer advice, and provide assistance where needed.
Several years ago Yacht and Yachting did a very helpful review of a Sprint 15 and that can be read by clicking the icon on the right.
The Sailors
The class group is lead by the Captain Keith Persin supported by the close class sailors.
If you want some helpful advice then you should talk to Keith or some of the more experienced sailors.
Some of our more experienced sailors include Jim Bowie, Len Flynn, Daren Fitchew, Chris Tillyer, Steve Healy and Alan Grant. To know who is best at the moment just look at the sailing results for Catamarans 
Club Sailing
When the class races usual club series races we prefer are given a Trapeziod (square) 4 mark course, allowing us to have also a couple of exciting reaches with the usual upwind and downwind catering to sailors of all levels and abilities.
What's Happening
To keep members up to date with the latest news and events, there is a social media group that can be joined to find out what is going on. We mainly use a WhatsApp group to talk to each other and if you pass your name and number to our Captain he can add you. This group is a great way to stay informed about upcoming events, races, and training opportunities, as well as connect with other members of the class. Additionally, there is a regular email newsletter that is sent out to the group by the Class Captain, providing updates and information about what is happening.
The class has a regular get together at the club on the 1st Thursday of the month which allows us to have a good chat meet other sailors in the class, improve your skills, and enjoy some great racing and socialising opportunities. But we also take the opportunity to meet outside of sailing to see bands, cycle and other sports.
Our Trophies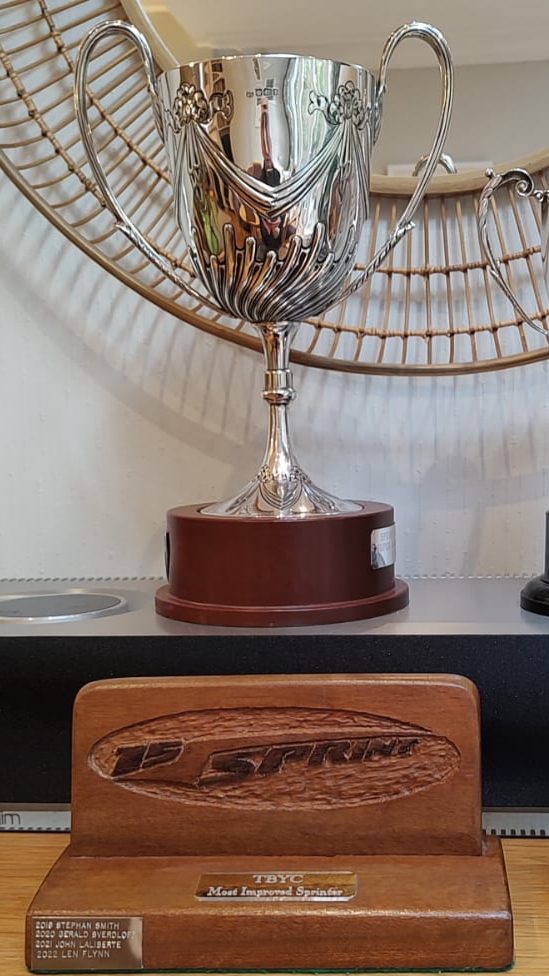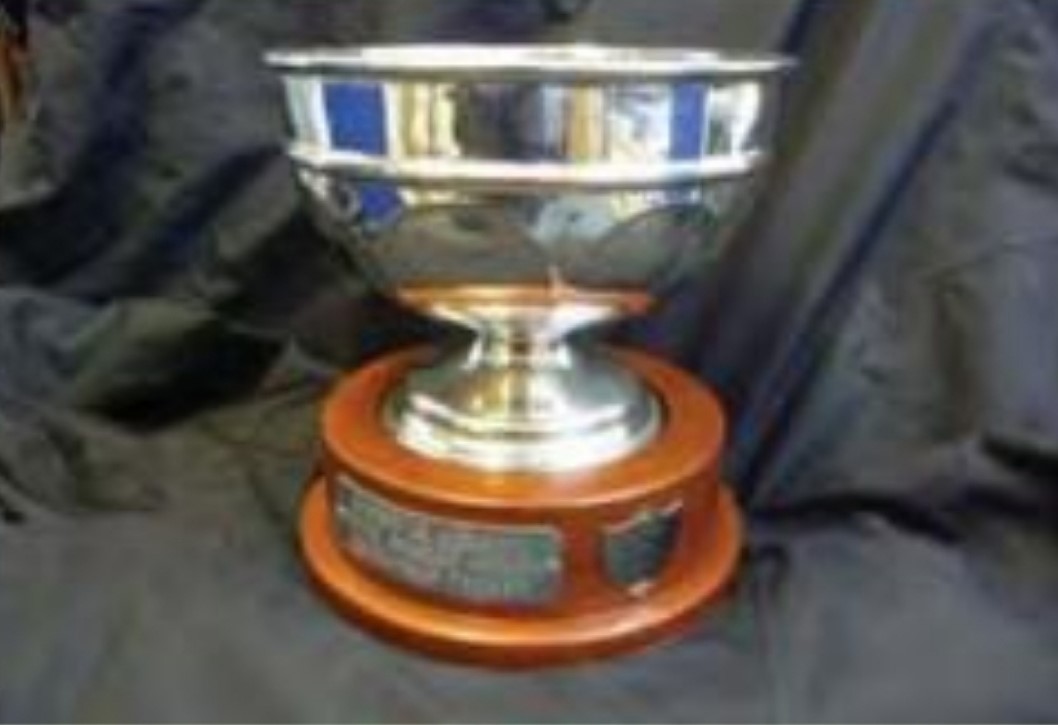 In addition to the normal club racing the Sprint 15 class also competes for its own group trophies. This is a great way to encourage friendly competition and recognize the achievements of top sailors in the class. The Sprint Sunripe Series trophy is raced over about 10 races through the Spring to Autumn season.
Captain Keith Persins son in the past couple of years had produced an analysis of racing which showed people that had improved within the year, which is used to ensure some trophies go to newer members of the class.
Our Association
The Sprint 15 class is also part of a wider association, which offers additional training and support for sailors. This association provides access to a range of training resources, including coaching and online resources, designed to help sailors improve their skills and knowledge of the class. They are available at www.dart15.co.uk .
Thorpe Bay Yacht Club often runs association wide Open Events, however in 2023 we are also hosting the Nationals where we hope to see upward of 60 boats on the water.
Overall, the Sprint 15 Catamaran class at Thorpe Bay Yacht Club is a fantastic way to get involved in the sport of sailing. With a strong sense of community, regular social and racing opportunities, and a wealth of training and support resources, there has never been a better time to join this exciting and dynamic class.
Comments Off on Sprint 15 / Dart 15