May 11 2009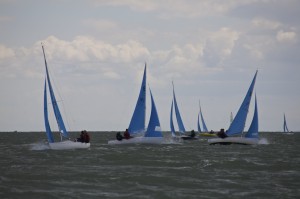 Congratulations to Martin and Nick Binnendijk for winning the Yantlet race yesterday out of 50 entrants.
15 Sandhoppers were in the top 20 places and with 17 sandhoppers starting they were the largest class on the water, top marks to Peter and John in Talitrus along with John and Janet in sandpiper who showed the rest of the fleet their skills with tide flow across the thames.
As for chris and toby in Nemises (DBL) along with Apollo and Sand star… boys need to take note of tide times and race course instructions!!!
A fantastic race was had by all in glorious conditions.
9 Responses to "YANTLET RACE"
Leave a Reply
You must be logged in to post a comment.