Oct 13 2019
Our Cadets had a tremendous day participating in the Matt Dear Trophy. 25 Cadets in 15 dinghies travelled to TEYC, some by sea, to compete in this annual event, which attracted 31 boats. Hannah and Lydia gained 1st place in their RS Feva closely followed by Pippa and Isabella in their '420'. Third was Luke in his Laser, followed by Daniel also in a Laser and in fifth position was Nathan  who was also the first Pico. They all crossed the Start line within seconds, tacking to gain clear air and fought in light winds to get to the windward buoy. The wind direction changed making the next leg a challenge for everyone. The battle increased on the final leg resulting in victory for TBYC.
This event is run by The Matthew Dear Foundation to raise awareness about the dangers of Appearance & Performance Enhancing Drugs after Matthew Dear's life at 18 was cut tragically short, by having a fatal reaction to taking these steroids.  https://www.matthewdearfoundation.co.uk/Home.html
We are proud of all our 25 Cadets for their participation in this race and congratulations to them all. Thank you to TEYC for hosting this event and making us feel so welcome.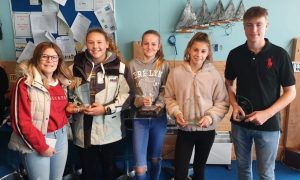 Leave a Reply
You must be logged in to post a comment.