May 12 2021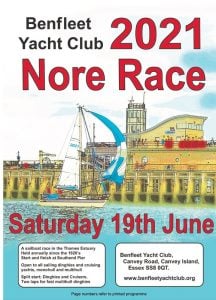 Good News! We can run the Nore Race this year! There was some doubt we could get on the pier, but it's all OK!
Programmes are being posted out to clubs right now. You can also download a copy from www.benfleetyachtclub.org. Follow the link at the bottom of the first page.
More good news – the Prizegiving will be the following Friday night as usual, as we don't have to invoke the socially distant options considered in the printed program.
It is only about five weeks to the event so please get your entry in as soon as you are able. Thanks.
Phil Bostock 
Benfleet Yacht Club – Nore Race
Email: [email protected]
Address: Canvey Road | Canvey Island | Essex | SS8 0QT
Leave a Reply
You must be logged in to post a comment.