Oct 29 2013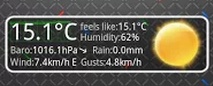 There is now an Android Widget App that allows you to have realtime weather straight from the TBYC Weather Station on the front page of your Android phone. If you are interested click on the post to find out installation instructions.
Unfortunately I don't have an iPhone and can't find an alternative but please let us know if you locate one, the URL Clientraw.txt data would be the same.
You will need to install the "Personal Weather Widget" from Google Play – https://play.google.com/store/apps/details?id=ca.ludg.android.weatherwidget&hl=en
Once installed you will be able to add the Widget to you desired screen usually by pressing the screen for about 2 seconds and then going to select the widget you want to add. The 4×1 version has the weather icon included as in the above example.
The details will be blank so you need to update the options, this is done by touching the widget in the top left and corner, where the large temperature digits are located. Touching the widget anywhere else forces an information update.
The settings I would change are as follows, any others could be left as is or change for your preference:
Wind Speed to MPH
Icon Display – Select actual or forecast
URL – This is important and should be http://www.tbyc.org/clientraw.txt 
Update on Wakeup – So it updates when you open unlock your phone.
Go back to your home screen and touch the widget and it should update with the appropriate information.
Enjoy. The app isn't ours but it seemed to work with most phones we have already put it on.
Paul Morgan
3 Responses to "Android Phone Weather Widget"
#

Ian Little

on 31 Oct 2013 at 12:47 am

Hey Paul
Shouldn't that URL be http://www.tbyc.org/weather/clientraw.txt ?

Works fine on my very "low end" Andriod phone.
Ian

#

Paul Morgan

on 31 Oct 2013 at 8:10 am

Hi Ian, I think both the links point at the same data, if you open both up in a browser you can view the contents. When you search in google it only picks up the second. Did you have a problem with the first ?

#

Ian Little

on 01 Nov 2013 at 7:28 am

Hi – Only the http://www.tbyc.org/weather/clientraw.txt worked yesterday – but today both links work fine. I found the longer link via Google – I only got results from http://www.tbyc.org/weather/clientraw.txt. but hey ho it works great! Nice work Paul!
Leave a Reply
You must be logged in to post a comment.