TBYC IS VERY PLEASED TO PROMOTE LADIES THAT LAUNCH!
For the latest update scroll to LATEST NEWS!   Next Social  – 15th July in the main bar.
'Women in Sport' and the 'RYA' understand how challenging it can be for ladies to get into sport:
All forms of boating are equally open to men and women, often participating or competing together.

Although women make up approximately 35-40% of participants in the boating activities under the RYA's umbrella, they are still very much in the minority when it comes to instructors, coaches, race officials or committee members.  The RYA is working on a number of ideas and initiatives to encourage more women to get involved, or to return after a break.
Women hold six core values which influence behaviour:
Six core values represent what is important to women in modern life and how they want to spend their time and energy.
Looking good.
Feeling good.
Achieving goals.
Developing skills.
Nurturing friends and family.
Having fun
These values can be dialled up and down for different women and at different stages in their lives.
Across the country varying initiatives have been launched that consider and identify with women influencers, motivators and barriers.
Here at TBYC Ladies That Launch (LTL) seeks to provide opportunities for ladies to enjoy the club and water, having fun, learning, building confidence and socialising together and getting the most they can from the club. We approach our fourth year with great enthusiasm! LTL is currently run by Lesley Dye who is passionate about sailing and supporting our members to enjoy sailing and feel good about themselves! Friendly faces and no pressure, but support if you need it.
Our ladies keep in contact with each other via a WhatsApp chat group. If you wish to join the group and keep updated please contact Lesley or Janet.
WHAT'S NEW?
Watch this place for details of new scheduled sailing or other updates in 2021. Lets get together on the water and maybe have a drink after in the club!
Scheduled LTL Sailing in 2021:
Meet changed and ready to rig in the boat park.
Sat 17th July 15.30
Sat 28th Aug 1400
Sun 19th Sept 1100
Sun 24th Oct 1300
Theory: If our ladies wish for some lighthearted and basic sailing tuition to put into practice on the water some additional sessions will be arranged or tagged onto a few social evenings/sailing dates.
SOCIAL
We have resumed our monthly social evenings! These will take place on the 3rd Thursday of each month at 8pm. Pop down to the club to catch up with friends and meet other lady members. Our Christmas meal is scheduled:
Thursday 9th Dec – details to follow
BASIC SAILING THEORY RESOURCES 
It can be very daunting to get on the water after a some time away, or stepping in to a boat for the first time. Our group aims to help ladies enjoy time on the water and help build/rebuild confidence and knowledge. TBYC offers level 1,2 & 3 dinghy sail training, which are fantastic resources, however if you alternatively want to spend a few minutes refreshing your understanding take a look at these short videos that cover some of the basics:
http://The length of this video is 2 minutes and 24 seconds.2:245 Essential Sailing Tips with Olympic Medalist, Shirley Robertson,YouTube · Royal Yachting Association – RYA28 Jan 2011
https://m.youtube.com/watch?v=b477nzyJum0
https://m.youtube.com/watch?v=WjBYRUZbU4Y
LATEST NEWS. 28.06.21
Ladies That Launch enjoyed a fab sail on Sunday in the breeze. It was lovely to see new ladies coming together to sail and socialise together, some completely new to sailing. Thank you to you all for making this a very enjoyable morning on the beach and on the water.a special thanks to those who helmed, keeping our ladies safe on the water!!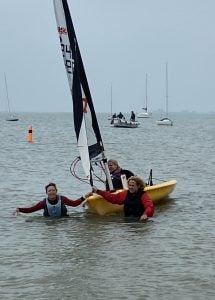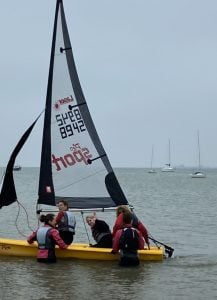 Even if you don't fancy a sail, do come down when we next meet to enjoy a catch up on the beach watching our expoits on the water. We are still waiting for some lovely warm sunny weather to enjoy these sessions in style!
I am speaking to class captains to arrange access to some different boats and hope to enable a blast on the Hurricanes soon; several ladies will also enjoy a 'Sandhopper taster' this coming Friday. Of course we are also planning a cruiser outing, which I am sure will be accompanied with a social G&T!
We also chatted about arranging a Paddle Board Outing to Paper Mill Lock maybe next month or in the school holidays, children welcome too. I'll publish details soon, this will be a lovely relaxed social outing together with a picnic.
Our next social evening is planned for Thursday 15th July in the main club bar, do
come along.
LTL SAILING AND SOCIAL REFLECTIONS
Here we will update pictures and highlights of Ladies that Launch. Here are just a few!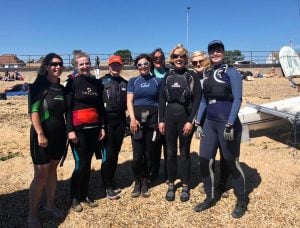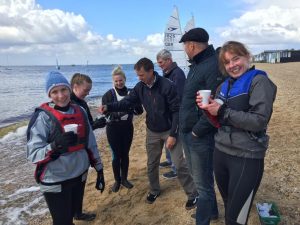 Comments Off on Ladies That Launch