Apr 11 2023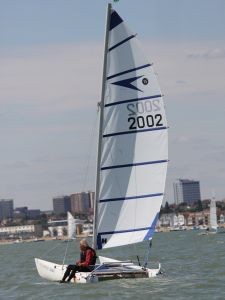 Sail number 2002, 'Out of Africa' edition.
In superb condition and ready to race.
Two Mainsails and jib.
All rigging for jib and trapeze.
Price includes: Long and short tiller extensions and spare tiller bar.  Full length cover is old but ok. Road trailer with large storage box. Beach trolley with big wheels. Full width number plate gantry.
Price: £2750
Leave a Reply
You must be logged in to post a comment.