Any problems or queries about events, please contact Beverly Warrington on the following email address: [email protected]


Booking a Private Party
Link to the booking form is here: Function Booking Form
When booking a Private Party information you should know:
We charge £150 for the Main Bar (discounted to £100 Wed, Thurs and Sun) or £75 for the Commodore Bar.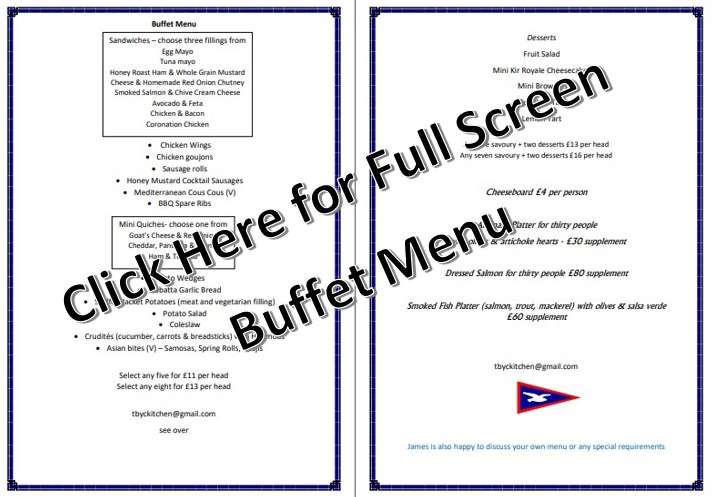 It is the Club's policy not to allow Parties for under 25 years of age
No external catering is allowed, our chef can produce various meals to order or you can select dishes from the Buffet Menu.
A returnable deposit of £200 will normally be required for each booking accepted, which will be returned during the week after the event, provided there has not been any sustainable loss or damage to the Club premises or its contents, and no food is brought in for the function. No deposit required for a wake.
We have a a good PA system and light bar that can be rented for £50 which you can connect to your own phones or music players to.
TBYC Private Event Calendar
If you plan to book a private event the following list shows you when the club bars are already booked. Review this with the Club Programme for Club Events. The alternate bar during these events are kept open for members.
Name
Date
Booking Details
 
SEPTEMBER
Private Event
Thurs Sept 21st – 2pm
Main Bar
Private Event
Tues Sept 26th – 3pm
Main Bar
Private Event
Sat Sept 30th – 7pm
Main Bar
OCTOBER
Private Event
Thurs Oct 12th – 7pm
Main Bar
DECEMBER
Private Event
Sat Dec 30th – 6.30pm
Main Bar
JANUARY
Private Event
Sat Dec 13th – 7pm
Main Bar
Private Event
Sat Dec 20th – 7pm
Main Bar
Kitchen and Bar Opening Times
Day
Bar
Kitchen
Monday
The club is closed all day – except for
Bank Holidays, which are Sunday hours.
Tuesday
The club is closed all day
Wednesday
11:00 – 15:00 & 18:00 – 23:00
11.30 – 14.30 & 18:00 – 20:00
Thursday
11:00 – 15:00 & 18:00 – 23:00
11:30 – 14:30
Friday
11:00 – 23:00 (00:00 for Parties)
11:30 – 14:30 & 17:30 – 20:30
Saturday
11:00 – 23:00 (00:30 for Parties)
11:00 – 14:30
Sunday
11:00 – 19:00 (Winter)
11:00 – 21:00 (Summer)
11:00 – 15:00
Kitchen opening times will be extended during the sailing season to encompass sailing times.
If the Bar is empty 1 hour before closing then it will close early. If you plan on coming into the club during the last hour phone ahead and the bar will stay open.
If a private function is booked to use the main bar, members will have access to the Commodores Bar.
Comments Off on Events and Bar