Sep 23 2018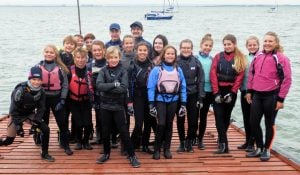 Twenty TBYC Cadets in twelve boats competed in the Matt Dear Trophy at Thames Estuary Yacht Club on Saturday. This prodigious trophy, in memory of Matthew Dear who tragically lost his life after taking Anabolic steroids, is to raise the awareness of the dangers to young people.
The Cadets hugged the start line and fought for a prime positions, making a good start. After an unfortunate port-starboard collision, Adam and Robin emerged 2nd and 3rd, both in Lasers. Meanwhile the RS Fevas were battling through the fleet soon gaining 4th 5th and 6th positions. Those Cadets in Picos were fighting the waves holding their positions as the winds increased. By the end of the race our TBYC Cadets gained 2nd (Adam), 3rd (Luke and Sam), 4th (Robin), 5th (Hannah and Lydia), 6th, 7th, 8th, 9th 10th, 11th, 14th and 16th out of 29 boats.
Although we did not get first place, Adam held onto his 2nd place throughout the race and received his well deserved trophy and gave a vote of thanks on behalf of the visitors.   Well done Cadets!!
This annual charity race was first held in 2010 in memory of Matthew Dear, who tragically passed away in 2009. The aim of the charity is to raise awareness of the dangers of Anabolic steroids and appearance and performance enhancing drugs. See www.matthewdearfoundaion.co.uk for more information.
Leave a Reply
You must be logged in to post a comment.