Dec 13 2018
I would like the Cadets, if they wish, to write an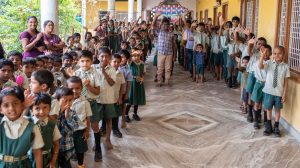 individual Christmas Card to the 100 Orphans that I had the privilege of supporting in India recently. I will supply the cards and names and ask the youngsters to write a simple message. It will be the first Christmas Card they have ever received. Suryapet Orphanage is a Christian hostel, so that they will be celebrating Christmas. I will also send cards and toothbrushes! More photos on the TBYC Facebook page.
To read the full Blog go to www.nwa.org.uk and click on the Suryapet Ophanage Menu/Tag.
Leave a Reply
You must be logged in to post a comment.