Jul 27 2022
The Sandhopper National Championships are here again on the 13th and 14th of August 2022 and with all that has been going on and with a drive for us to get back to Burnham week for the first time in many years, I may not have been shouting enough about how fantastic this event is for our wonderful class of boat.
This year we are also celebrating 50 years of Sandhoppers at TBYC, although a little over 50 yrs, but we can blame Covid for that. So, everyone is welcome to join us to celebrate the class on the Saturday night (13th August) for a BBQ at TBYC. I will issue details as to the cost of this shortly and a reply from you would be very helpful to know If you are joining as this has an impact as to that cost!
Now onto the racing. Everyone with a Sandhopper is obviously welcome to join in, we have Primo available for those that don't have a boat, it is not currently booked for the nationals. Therefore, if you would like it, please let me know before next Friday and I will put the names in a hat and then let you know if you have been the lucky one!
Also, if you have a Sandhopper and you cannot or don't want to compete but would be happy for an experienced sailor to compete in your boat, please let me know. Conversely if you would like to race in a Sandhopper at the Nationals and don't have a boat let me know, I may be able to arrange a boat for you, or a crewing opportunity. Maybe a Win Win.
The NoR & SI along with the Application form are attached. The NoR and SI are in Draft form and will be finalised in a week, if you spot any omissions, please let me know.
If you intend to compete, if you could let me know it would be useful as I will be ordering trophies etc. very shortly.
As ever if there is anything I can do to help you get sailing please let me know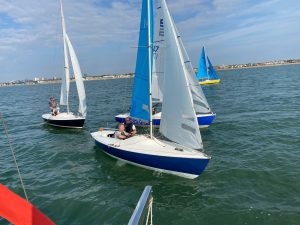 Kind regards
Scott James
TBYC Sandhopper Class Capt & SCBA Chair
Leave a Reply
You must be logged in to post a comment.