Aug 08 2022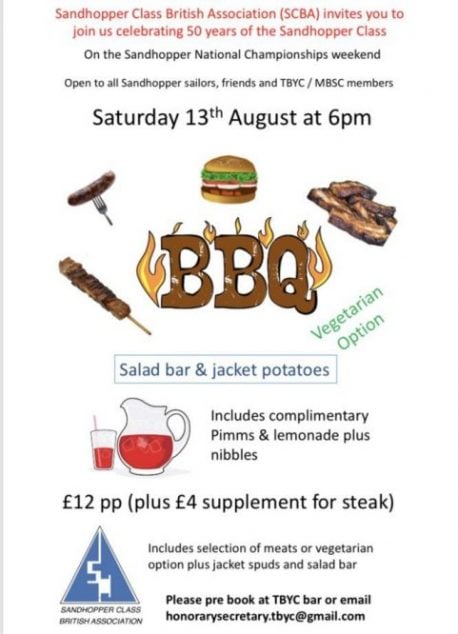 Good morning,
Not long now until the Sandhopper Nationals at TBYC and great to see some of those entries coming through and some surprise entries expected as well! We could have 17+ boats on the start line this year which would be fantastic.
Janet will not be able to join us this year as she is on holiday. Therefore, could I ask that you complete the paperwork promptly (By Wednesday) and make payment so this can be dealt with ahead of time.
Also, as a reminder to compete in the National Championships you must be an (Sandhopper Class British Association) SCBA Member, this is still only £10 to be a full member or £5 as an associate. If you are already a member, just a payment is required to the SCBA account (details below) with your name as a reference.  If you are not a member, can you please complete the attached form, return this as per the instructions and make the payment with you name as a reference.
The BBQ is booked for Saturday night this is £12+ per head, it will include a choice of meats and salad. The SCBA will be providing complementary nibbles and a Pimms and Lemonade as well.  Please let Mark Robinson ([email protected]) and I know if you are intending to join us for the BBQ, so we can let the chef know the expected numbers. All are welcome. Start time will be circa 18:00, Mark will confirm the full details and menu shortly.
Links to forms are below:
Sandhopper 2022 Entry Form docx
Leave a Reply
You must be logged in to post a comment.