Jul 10 2008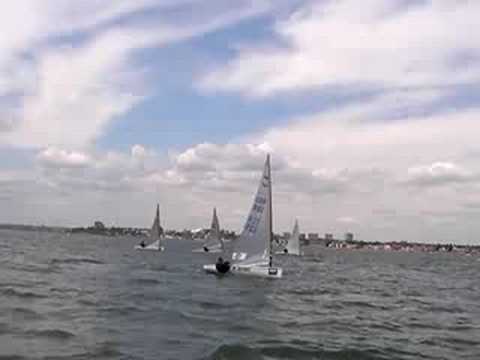 30 Finns gathered at Thorpe Bay Yacht Club for this years' National Championship and were greeted by sunshine and a light 6 knot breeze for Fridays first race.
The line up included some of the world's top young Finn sailors in Giles Scott the current World Junior Champion, Jonathan Lobert the French Olympic reserve, recent European Junior Champion Mark Andrews and Mark Andrews from the Skandia Team GBR squad.
Scott soon mastered the fitful breeze, beating against the tide to secure the first win after Jonathan Lobert ( FRA) had lead for most of the race before making an error at the bottom leeward gate and had to unwind himself before re-rounding correctly.
Mark Andrews recovered from a slow start to finish in the top 10 but was 'persuaded' by the race officer that it might be better to retire when he was spotted without a lifejacket aboard.
Club sailor Simon Hoult from Weston SC was the first of the non-Olympic sailors with a very impressive 4th, followed by local ace Allen Burrell in 5th. Just to prove that you can just jump in a modern Finn and be fast, Martin Binnendijk from the host club came 6th in a borrowed boat and showed good speed upwind.
Thankfully the breeze built throughout the second race, peaking at a steady 10-12 knots. The pumping flag stayed down which caught out a few over zealous sailors downwind who were revelling in the almost surfing conditions downwind. This time Lobert made no mistake and lead Scott around the course by quite a margin. With the tide about to change it paid increasingly to hit the shore but some underestimated the tide and ended up reaching into the windward mark, giving away all they had gained. Mark Andrews, now in a borrowed lifejacket, showed his form with a solid 2nd, ahead of Scott in 3rd and Andrew Mills in 4th.
True to the forecast, Saturday dawned dry but with a strong 18-20 knot southerly breeze that was only going to build with the incoming tide. The wind direction allowed the Thames estuary to show itself at its best with a course set with a 1.5 mile beat out from the shore into the famous short chop.
Starting at the committee boat, Giles Scott lead from the start with a very impressive display of downwind sailing, surfing every wave and always looking well in control. Andrew Mills also seemed to like the breezier stuff, passing Jonathan Lobert to claim second. Sadly Neil Robinson from Mengeham Rye received a nasty blow to the head whilst gybing before the start that needed 9 staples to repair. The safety team did a great job in getting him ashore quickly and off to hospital and he was thankfully passed fit enough to drive home later.
Just behind the squad sailors, John Tremlett was having a tough battle with UK Masters Champion Allen Burrell, each swapping 5th and 6th places in the next race. Burrell just lost out in the final race of the day when Adrian Brunton got between him and Tremlett and with Burrell dropping to 7th in race 5 it meant Tremlett finished the day one point ahead in 5th overall. Marc Allain De Beauvais (FRA) obviously enjoyed the stronger breeze with two 8th positions to secure his lead in the Grand Masters category. Conditions by now were fairly wild, with the gybe mark boat enjoing the spectacle and taking bets as to who would flip it or spin it at the mark.
That evening the sailors and race committee enjoyed a fantastic championship dinner, hosted by the sponsors J.M. Finn & Co., (stockbrokers) with some hilarious and impressive dance floor action. It was a great mix of British comic genius and Gallic charm and smoothness from the French!
Sunday morning arrived with a howling 25kts wind that rapidly built through the morning, killing any chance of sailing. All seemed quite thankful after the rigours of the previous day and were already packed up before the race officer, Geoff Appleton made his decision to abandon the racing.
Every entrant went away with a prize, thanks to the generosity of class supporters North Sails, Hi-Tech shoes, DEM Foils who generously donated a rudder blade and Yachts & Yachting who supplied the trophies
Giles Scott retained his National Champion title by just one point from Jonathan Lobert from Nantes, who is another rising star to watch. Third overall and winner of the final race was the ever improving Andrew Mills, who with Giles Scott is off to China next week to help tune-up Ben Ainslie for the Olympic regatta.
Leave a Reply
You must be logged in to post a comment.