Dec 27 2015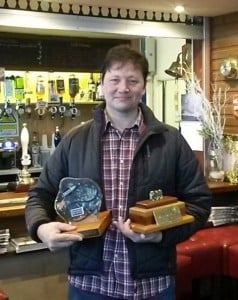 A double achievement for Daren Fitchew who followed up his Brass Monkey win, by  today also winning the TBYC Frozen Sheets, whilst sailing his Sprint 15.
Again another windy day, as Daren suggested had been in his advantage, it's what he had been training for.
Chris Boshier who also raced both races, had an unfortunate capsize during a gybe which left Daren with a 18 second corrected lead. We should not forget that Chris also sailed the double in his Contender last year.
Gary Sverdloff sailing his Sprint 15 took 3rd place.
Prize Giving took place after the race with Commodore, Beverly Warrington presenting the coveted prize.
All other entrants were very happy that it was not the normal low winter temperatures but those more like Autumn, although the Rum Punch served by the Commodore and helpers was enjoyed by all.
One Response to "Daren Fitchew – Double Winner – Frozen Sheet & LOS Brass Monkey"
#

John Williams

on 28 Dec 2015 at 00:22

Well done Daren, great performance.
Leave a Reply
You must be logged in to post a comment.