TBYC Roadmap 2021
Positive News. TBYC Road Map as it appears currently and subject to the Government not moving backwards or forwards on their own road map and also taking into account current RYA guidelines updated on the 25/2/21.
Mon March 8th. Access lifted to dinghy park to allow members to get access to their own personal equipment only, to go sailing in line with Government guidelines. The Club slipway CANNOT  be used to launch and recover members personal boats as this would breach Government rules and RYA legal advice. Club work continues to be permitted on site and also paid work on members boats but access to members to work on their own boats is not permitted before the 29th March. The Government advice remains STAY AT HOME AND EXERCISE LOCALLY.
Mon 29th March. Outdoor sporting facilities open. Access to dinghy park and Club slipway for all members and sailing and racing can resume. The toilets will be open but the changing rooms will remain shut.
Thurs 1st April. lift in for support boats and any Cruisers or Sandhoppers that are ready and in a position to be lifted in.
Fri 2nd April. Dinghy boats can return to the dingy park although some may not go into their allotted slot until 2nd Lift in is sorted. Full Easter racing calendar will commence.
Mon 12th April. Club changing rooms will open. Alcohol can be served outdoors.We MAY decide to open the Club Bar a few days for limited hours during good weather if the demand is there.
Fri 16th April. Lift in for ALL remaining Sandhoppers and Cruisers. this gives all owners nearly 3 weeks, 2 weekends including Easter bank holiday weekend to sort their boats since access was allowed to all from the 29th March.
Tues 18th May. Club house reopens
Mon 21st June. National restrictions lifted no restrictions at the club.
Mon 9th -13th Aug. Planning for Cadet week is now actively underway.
Sat 4th Sept Summer Ball (Revised date).
As we progress throughout the year relevant Social distancing rules applicable to members attending the Club at that time will be updated and notified to all members.
If anybody needs to discuss then please phone me but it is worth looking at the RYA guidance first as this is what we have used to issue our road map as it currently stands and has been agreed by the General Committee.
Adrian Bunting
Commodore TBYC.
TBYC Notice to Members No. 9
Hi All
With more information being issued by the HM Government, our regulating body the RYA and the PLA, you will be pleased to know your committee will stand by its decision that the dinghy park and sailing without club involvement still stands.
However, it would be remiss of your committee not to share the latest details from each body, so you can make your own choices. With that in mind and taking into account our last notice number 8, further guidance and advice can be found:
HM Government. https://www.gov.uk/guidance/new-national-restrictions-from-5-november?priority-taxon=774cee22-d896-44c1-a611-e3109cce8eae#history
RYA. https://www.rya.org.uk/newsevents/news/Pages/new-national-restrictions.aspx
PLA. https://server1.pla.co.uk/assets/14of2020-sportrecreationonthethames-covid-19update6thnovember2020.pdf
We would seriously urge you all to read the guidance and regulations
Kind Regards
Steve Hopper Commodore
TBYC Notice to Members No. 8
Following the recent HMG guidelines enforced from the 5th November and the RYA Interpretation of these regulations can be viewed here –  https://www.rya.org.uk/newsevents/news/Pages/coronavirus-advice-and-information-for-recreational-boaters.aspx
Coming to the dinghy park and going sailing is associated with risks. It is your choice, your decision, your responsibility at your own risk. The General Committee requests that you follow the rules below to ensure safety to all members.
The Committee has therefore decided, at this point in time, that whilst the club house and changing rooms will need to close, the dinghy park can be accessed, and free sailing is still possible. The toilets will remain open. These regulations will be reviewed regularly and further amendments to these guidelines may be issued.
General Rules and Guidance for Dinghy Park & Water Activities
Please observe social distancing at all times. Do not go within 2 metres of other people
Please avoid touching common surfaces and regularly wash your hands
Please cover your mouth and nose when sneezing or coughing
Please proceed around the dinghy park, car park, beach and slipway with caution and consideration to others
Do not be afraid to ask another member 'to keep their distance', but always do so politely and with consideration so they will not be offended
If the number of people becomes a risk, then restrictions may apply. This will only be introduced if absolutely necessary and only to protect our members
If you or anyone from your household or anyone you have had contact with are showing symptoms of Covid 19 do not come to the club or dinghy park but follow Government guidelines, self-isolating for 14 days
Whilst we will have installed areas to wash your hands to assist you in keeping safe, we remind you that you are at your own risk entirely and further recommend you carry your own PPE and hygiene supplies
Do not share water or fill from the hoses or sinks to further reduce the risk of transmission
Movement and use specifically of the car park and dinghy park
Please refer to the diagram along with this information for signage and safety equipment
We have provided knee operated hand washing facilities as detailed on the diagram
When setting up and rigging your boats please do so in the grass car park to enable better distancing
When walking and travelling around the dinghy park and passing others please ensure social distancing is observed at all times. If needed wait and let others pass
On the Water Guidance
Please be mindful of any actions you may take that could result in the requirement of emergency services
Supervised and any organised activities are not possible at this point, so you go afloat entirely at your own risk
All applicable TBYC rules still apply
Check your equipment to ensure it is fit to go afloat
Check tide times and go afloat on the incoming tide in preference
Check a weather forecast just before going afloat this can be found on the club website https://www.tbyc.org/weather-station/
Consider the wind direction. Northerly winds are more dangerous as its not so obvious to gauge the wind strength and when in trouble you will be blown away from the shore. Also consider the strength. Do not go if the conditions are above your ability.
Let someone know you are going afloat and when you have returned
If you are going afloat during a quiet time i.e. early mornings / early evenings or during the week, try and buddy up with other members around
Always wear a buoyancy aid
Take a paddle
Have at least a 10m painter attached to the bow of your boat
Take a method of communication with you. Ship to shore radio if you have one or your mobile phone. Making sure there is sufficient battery life on your device for the time afloat. Take both if you have them.
TBYC on water limited activity and current status
The usual sailing programme is suspended. However, it is being reviewed on a weekly basis and will resume when it is possible to do so
The Dutyman system is also suspended at this time and we will operate strictly on a volunteer basis
Please note that there will be no safety boat cover during the lockdown period.
The club house and changing rooms remain closed until further notice.
TBYC Notice to Members No. 7 – Forthcoming Lockdown
As always during these ever-changing times your committee are once again working hard to navigate the club through the latest announcement from HM Government.
We had another extra ordinary committee meeting last night to discuss what we know at the moment and the impact and initial actions we must take.
It is with much frustration and sadness that once again we must close the club house. Due to these regulations the club will close initially from Wednesday evening at 22.00hrs at least until the 2nd December or until such times that HM Government allow us to open.
We have far more knowledge and experience of how we may operate safely for each element of our club and see the elements in 5 specific categories:
Club House, Bar & Restaurant
On the Water Activities
Dinghy Park Access
Toilet Access
Changing Room Access
As always with these announcements the devil is in the detail and as a committee, we have postponed any decision on items 2 – 5 until that detail is clearly defined or by tomorrow evening 4th November.
Our promise to the members is that if we can retain any element of the club this time we will do. However as always this will only be done after careful consideration to the safety of all staff and members.
Further advice to follow
In the meantime, keep safe
Kind Regards
Steve Hopper, Commodore
TBYC Notice to Members No. 6
Hi All
Once again, we have yet another consideration to guide our club through. On the 12th of October, to be implemented on the 17th October, the government announced yet another version of how the country must try to fight the virus. This, as I'm sure you are aware, brought in different measures in different locations. The government refer to this as a tier system, but is also known as Medium (Tier 1), High (Tier 2) and Very High (Tier 3) levels of alert – restrictions.
The guidance to this which was published just recently,  gives us as a club a further dilemma. Our members are generally local but also come from areas in different Tiers. See at https://www.gov.uk/guidance/local-covid-alert-levels-what-you-need-to-know
You can also find out which Tier you are in at : https://www.gov.uk/find-coronavirus-local-restrictions
The club is still in Tier 1 so we are not affected as far as opening is concerned at this point.
However again, this does affect how we as a club must operate.
In short:
If you are in Tier 1 then you can continue to enjoy the club under its current restrictions
If you are in a Tier 2 area you may only sit at a table with people from your household or one person living alone who you have exclusively formed a single bubble with.
If you are in Tier 3 then you may not visit the club at present.
This for the club is almost impossible for us to police so we have to ask you to be aware of which Tier your home address is in and abide by the rules accordingly to ensure all are safe when visiting our club. We would also respectfully ask that you add which tier you are in when signing in please.
This I know is far from ideal and all I can say is your committee will work swiftly and diligently to amend any rules as soon as we are able to do so.
In the meantime, keep safe
Kind Regards
Steve Hopper Commodore
TBYC Notice to Members No. 5
Hi all I hope you are all keeping safe and well and have enjoyed our safe and fantastic club since reopening on the 4th July. Who would believe it has only been 2 ½ months that we have been reopened it seems much longer to me!
The support and encouragement to myself the general committee and staff has been amazing and as always shows the strength, character and quality of the members of our club.
Most of you will be aware that I took the difficult decision to close the club yesterday evening. To allay any fears, I would like to let you all know my decision process for this.
It was brought to my attention yesterday afternoon that one of our staff had been asked to isolate, as another person in contact with them had been found to be Covid positive (not a TBYC Member) , all be it very remotely.
At this time I was unsure, as it was a member of staff at what point we should further isolate other staff. So as a precautionary measure I instructed the club to close for the evening.
Personally, and as a committee, we pride ourselves in being cautious and yesterday's actions whilst some may consider to be a knee jerk reaction. I personally would much rather be criticised for shutting when not necessary than not shutting if necessary.
To explain, I have checked Track and trace which works in this way
· If any person has a positive test, then NHS Track and trace contacts people they have been in immediate contact with and ask them as a precautionary measure to self-isolate for up to 14 days.
· The people who have then isolated from above then notify others they have been in contact with, that they are isolating
· The people who have then been notified by the person who is now isolating need do no more unless symptoms arise then they must get a test.
So, in our case yesterday everything was done correctly the person asked to isolate did so, then contacted James to advise the isolation. At that point we could have continued. However as mentioned above and to be cautious. I paused the club for the evening just to ensure safety for all.
This morning I have had a meeting with the key people involved, to assess our decision and the latest HM Government advice. And to more robustly interrogate the rules of track and trace.
As a result, I am pleased to announce we are open again from lunch time today.
As a further precaution, I have brought in staff earlier, to perform a deep clean and sanitise of the kitchen, bar and all surfaces around the club. More for comfort than necessity.
We must now tweak the way that we operate to ensure we remain on the safe side. The key changes are:
· Face coverings must be worn when visiting the club. How does this affect you? Please ensure you always have a face mask when visiting and wear this around the club unless seated.
· The club must also be table service only now. How does this affect you? Please enter the club then immediately proceed to a table then order via text, your drinks or food will be delivered to you. Do not order from the bar. Our staff know most of you and if you are having difficulties ordering, they may come to you and take your order. I would ask you to be patient with this process.
· Tables are restricted to a maximum of 6 people.
How does this affect you? HM government have put a very ambiguous guidance note for this point which says:
"Venues following COVID-19 Secure guidelines can host more than 6 people in total, but no one should visit in a group of greater than 6 (unless you are all from the same household or support bubble). When you visit one of these places, such as a pub, shop, leisure venue, restaurant or place of worship you should: follow the limits on the number of other people you should meet with as a group (it will be illegal to be in a group of more than six from outside of your household or support bubble). If your household and/or support bubble is larger than 6 people, this is your largest permitted group and you cannot meet as a group with any additional people."
We at TBYC find this impossible to police. So, to ensure both the safety of our staff and members, we must insist that tables and chairs are no longer rearranged, and people stay to a maximum of six people regardless of family or bubble size.
We have strived to keep the current layout as socially interactive as possible with screens and table positioning. But we need your help to keep us open and safe, as none of us really know all 1100 members and where they live or if they are in a bubble.
· Our times have changed and are as follows:
Bar Opening: Lunch Evening
· Tuesday – Thursday 11.00 – 15.00 18.00 – 22.00
· Friday 11.00 – 22.00
· Saturday 11.00 – 22.00
· Sunday 11.00 – 21.00
Kitchen Opening:
· Tuesday – Wednesday 11.30 – 14.30 18.00 – 20.00
· Thursday 11.30 – 14.30
· Friday 11.30 – 14.30 17.30 – 20.00
· Saturday – Sunday 11.30 – 14.30
We are continuing with our signing in book at present, as this covers our legal requirements to record visits for NHS track and trace and eliminates the possibility of confusion, as to which way you should record your visit. Please complete this fully and individually for each visit. However, I would encourage all members to download and use the NHS COVID-19 app as this will help all combat this disease.
Finally in closing, I personally along with the general committee and staff will continue do all we can to keep TBYC the safe premier club that we all enjoy.
3rd July 2020 Guidance for Club Opening
A guidance video has been produced which can be viewed at https://youtu.be/GownstQobq8
2nd July 2020 Club Covid 19 Risk Assessment
Covid-19 Risk Assessment June 2020 v1.1 amended PP r2
2nd July 2020 Guidance for Club Opening
Hi All
Please see attached guidance notes for the bar and food offering. It is limited for both your and our staff's safety.
General Rules and Guidance No.4 Club House r2
TBYC Club Covid Diagramme Ground Floor r2
TBYC Club Covid Diagramme 1st Floor r1
As you will read it has been produced within current HM government guide lines, rules and regulations.
The primary information we have used to produce our covid safe operation can be found:
https://www.gov.uk/guidance/working-safely-during-coronavirus-covid-19/restaurants-offering-takeaway-or-delivery
With frequently asked questions on what is and isn't permitted from the 4th July:
https://www.gov.uk/government/publications/coronavirus-outbreak-faqs-what-you-can-and-cant-do/coronavirus-outbreak-faqs-what-you-can-and-cant-do-after-4-july
May I also take this opportunity to thank:
Tony Byrne (Health & Safety)
Paul Palmer (Medical)
Martin Swindon (Leisure Sector)
Who were co-opted, in to an opening committee along with myself, Vice-Commodore Wayne, Paul Morgan, James Johnson and Janet.
Steve Hopper, Commodore
26th June 2020 Update on Plans to open the Clubhouse
Firstly, as always, please may I thank all of our wonderful members for your co-operation, understanding, patience and continued support. Your Committee are very appreciative.
We are now following revised guidance from HM Government, working hard at getting our Club House back open at the earliest opportunity.
It is our intention to re-open the Club House on Saturday 4th July. However, our primary concern as always is to provide as safe an environment as possible under Covid 19 restrictions. This will be a low key return with many safety measures (more guidance to follow).
In short, such measures will be:
Advise to visit only if well and not experiencing any coronavirus symptoms or anxious in any way
Practical steps such as one-way systems
Screens and social distancing markings
Seating only with limited space. Please do not be disappointed if the Club is full, it is for everyone's safety
Bar, food and toilets only, no changing facilities
Cleaning stations and sanitizer at all tables
Increased cleaning regime Signing in book to be completed by all members to comply with NHS track and trace.
The above is just some of the key measures, full details will follow shortly, and all will be displayed on Club TVs and around the Club. Also, as always, information will be circulated to all via email, Club website, Club Facebook and letters to those who do not have access to electronic communications.
I would again rely upon your co-operation with these restrictive measures and please understand the controls have been very carefully considered for the safety of members and staff.
Yours faithfully
Steve Hopper
Commodore
12th June 2020 Club Toilets Open for Limited Use
We have now assessed and released the toilets in a limited capacity to club members only.These are for essential use and NOT changing rooms.
To enable more room externally the parking bay closest to the rear door is suspended please do not park there. Also, the smoking area is suspended.
The existing disabled toilet is now set up as Disabled / Family and Ladies only, and the existing Gents is now set up as a lockable toilet and re-designated as Unisex.
Guidance on toilet use under Covid 19:
All toilets now have engaged / vacant sliding signs please operate to indicate usage
All touchable surfaces must be wiped down before and after use
All toilets must be left clean after use. Please leave as you would like to find them
In toilets, the lobby cleaning station and the external cleaning station, there is sanitizer for your use
The toilets have soap as usual for you to wash your hands
The cleaning stations have disposable wipes to wipe down all touchable surfaces
The rear door must also be wiped down and has been changed back to the existing access code
Signage will be posted at the rear door and by the cleaning station to help
Please also remember to be patient and do not forget you can always remind people to be mindful of distancing
Please observe social distancing 2m
As in all establishments across the country we would remind you that you use the facilities entirely at your own risk and we would urge you if you feel unsafe not to use the facilities
The remainder of the club remains closed at present. Although your committee are working towards how we may re-open however this is likely to be in stages and observing social distancing


29th May 2020 Notice to members Club Boats
With further "easing" on the horizon and another pleasant weekend ahead, we thought that the time is right to release the use of the club boats.
If you do use one it will need a full wash down on its return please. We will try and get cleaning equipment put out in the dinghy park in boxes near the hoses. Please ensure that the boat is returned ready to use again, clean and tidy.
As the boats have not been used for some months and you're first out in them, you may need to give them a pre-wash down.
As with all sailing currently at TBYC; you are sailing at your own risk. Please be aware of the conditions and the forecast and sail within them observing TBYC guidance notes 2 & 3 posted around the dinghy park .
Happy Sailing!
Howard Warrington, Sailing Secretary
please note. If you'd like to use the club Feva, please book this through Andras Gal only.
19th May 2020 Notice to members No.2 – Information about Sailing and Dinghy Park Click on Image to Enlarge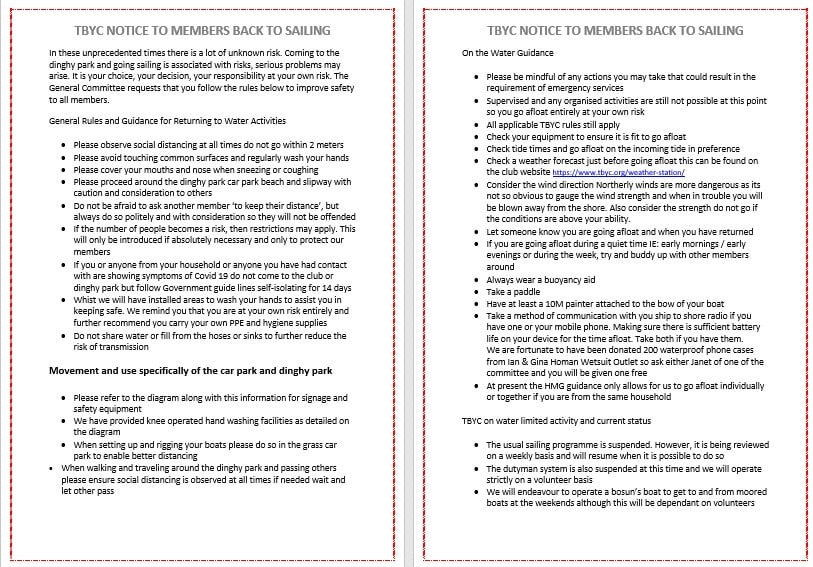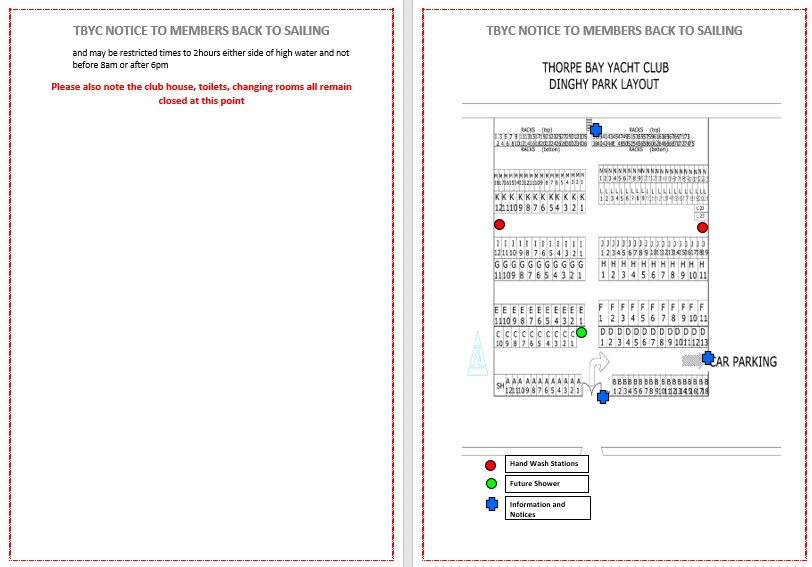 13th May 2020 Notice to members – Return to Sailing Plan. Please read carefully.
Please note that your committee are working very hard to bring as swift a return to sailing and club activities as is possible. Whilst making allowances for the age range of members and of course all of the HMG guidelines including the important guidance from the PLA, the River Police, the RNLI and the RYA.
Following the PM's announcement on Sunday and further information published today, it looks likely we will be able to bring about a gentle return to activities. The RYA have recommended that this return be a measured and careful return with clubs to take their time to protect all. We are keen therefore, not to rush this and to provide sensible boundaries and protection for all members.
Please bear with us we have all your interests at heart.
The Plan…
1.   The dinghy park will be open to members from Saturday 16th May for members to return to their boats for pre-sailing seaworthiness maintenance and check over. Please do not use the dinghy park until then to allow for some maintenance to take place on the fencing and safety signage including increasing the size of the dinghy park. The opening of the dinghy park is for preparation of the Sandhoppers and Cruisers ready for lift in. Masts need to be raised and boats rigged. This time having been lost 2 weeks prior to the original lift in date due to the lockdown. For those requiring assistance with this, a mast lifting, isolated team will be on hand to do this for you. This needs to be done whilst observing government social distancing guidelines
If you are working on a dinghy, please take your boat into the grass car park – observing distancing rules, and work on it there. Returning it to your spot having completed your tasks.
The Authorities have now released water activities. We cannot stop you going sailing at this stage. However, and again to help with social distancing, hygiene and safety, protect the majority, we would ask that you be patient and not use your boats if they are in either the dinghy park or car park. We understand you are keen to get back on the water, as are we all. But to clarify; this is to keep the numbers down in the dinghy park during the early days and protect fellow members.
We would ask all members to support this request and not go afloat before the dates published below.
Please only park in the car park, not the dinghy park.
2.   The next step is to launch the Sandhoppers and Cruisers for those who would like to go in the water for the remainder of the year. Some may choose not to launch and space will be found to store boats for the duration. It is very likely that your boat will be moved that being the case.
We aim to have both fleets launched by Friday 22nd May. This will be done with a selected and vastly reduced crew than usual. Members are requested to remain outside of the working area while this is happening. You will be requested to go onto the mud to secure your boat once the lift in is complete or nominate someone to do this for you. If you would like one of the launch team to do this, please let us know. Strict guidance will apply and you are asked to comply in all regards.
As previously noted, members are requested not to use their boats from the dinghy park or car park.
Club members wishing to bring dinghies to the club will be unable to do so before lift in has been completed on Friday 22nd May as there is currently no room and lift in cannot be conducted if there are further boats obstructing the way. These members will need to liaise with Nick Elmore before bringing their boat to the club to be allocated a dinghy space and date to return as it is unknown at present how many boats will be lifted in from the number currently in the dinghy park.
Please note, all members with a dinghy space allocated will be found a space
3.   Saturday 23rd May will see the return for members to go sailing, paddle boarding or fishing etc and using their boats. Members are requested to always follow the HMG guidelines to distancing and help protect your fellow members. Depending on the rules that apply at this time (which may have changed from the time of writing), it is likely that you may only sail with a person with whom you have been isolated during the lockdown. This may restrict some members having access to the water.
NOTE: UNTIL FURTHER NOTICE; THE CLUBHOUSE IS CURRENTLY OUT OF BOUNDS AND THIS INCLUDES THE CHANGING ROOMS AND TOILETS.
BOTH THE CLUB CAR PARKS ARE OPEN.
THE CLUB IS NOT ABLE TO PROVIDE ORGANISED SAILING OR SAFETY COVER AT THIS STAGE. ANY WATER ACTIVITIES ARE UNDERTAKEN AT YOU OWN RISK.
PLEASE BE AWARE OF YOUR OWN ABILITY, WIND AND TIDE STRENGTH & DIRECTION AND ABOVE ALL PLEASE SAIL SAFELY.
Ideally there will be some form of hand sanitiser available at the club but it is the responsibility of club members to provide their own hand sanitisers.
No club dinghies are to be used currently by members but this will hopefully change once guidance has been put in place.
We sincerely hope that in due course, we will be able to slowly return to racing. We aim to ensure that all the equipment necessary for this will be in place before the time comes so we are able to react swiftly and commence our sailing season. You may see the ribs and the displacement craft out being run. This will be for testing and good maintenance only.
We desperately look forward to being able to sail with you all and more so enjoy a social drink in the bar and all the usual wonderful banter that follows a great day on the water.
Howard Warrington – Sailing Secretary
Comments Off on COVID19