This information will be of interest to any sailors taking part in any racing at Thorpe Bay Yacht Club
TBYC Sailing Instructions and Racing Marks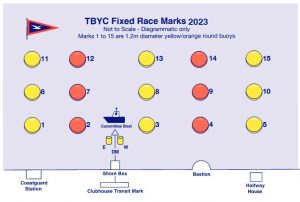 TBYC Sailing Instructions 2023
TBYC Sailing Risk Assessment
Racing Rules of Sailing
Racing Rules
The ISAF Racing Rules of Sailing 2021-2024
Hearing Request and Decision forms 2021-2024
Protest forms were replaced with Hearing Request and Decision forms in RRS 2021-2024 and are available at Hearing Request and Decision Forms
Protest Form extracted from RRS 2017-2020 are kept here for reference
Protest Form from RRS 2017-2020
Slipway Usage Protocol
With the fantastic turnouts , especially with seeing many new cadet sailors joining the main racing, we have become a victim of our own success. Namely, congestion on the slipway.
We don't want anyone to feel that they are compromised in trying to launch but at the same time it must be understood that it is free to use by any member of TBYC.
If members could follow these guidelines then I'm sure it will make it easier for all.
Race Tracking
A few classes used RaceQS for a while which can give you excellent replays of your sailing with good information details on how we use to do this is in Race Tracking using RaceQS
Leave a Reply
You must be logged in to post a comment.