Jul 30 2016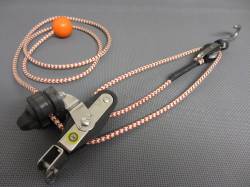 Last Sunday after finishing the Sprint 15 Open, I unfortunately misplaced my Downhaul.
It was on the boat when I took the sail down, therefore I lost it somewhere between the beach and the dinghy park.
If you found it I would appreciate if you would let me know as it is a surprisingly expensive part and required to sail the boat.
It is very similar to the one in the attach photo.
Thanks. Paul Morgan 07741 201052.
Leave a Reply
You must be logged in to post a comment.