Sep 12 2018
Friday 14th September
7.00pm Cadet Sailor's Meeting with Andras (Sail Training Room)
7.30pm Race preparation with Nick for Bart's Bash, Matt Dear Trophy and Inter-Club Cadet Team Race (Commodore's bar)
8.00pm Parents meeting – Organisation / transporting boats etc. for Matt Dear Trophy and Interclub.
Sunday 16th September
Sail Training with Andras – Start on the water at 15.00.
Barts Bash – Start 15.00    Nick will support the Cadets doing this race (optional) Friday evening (as above) and with a briefing at 14.00.
This will be a great opportunity to practice for the follow weekend.
Saturday 22nd September
Matt Dear Trophy at TEYC Start 11.00 (TEYC Briefing 10.00)
Sunday 23rd September
Inter-Club Dinghy Team Race at Leigh on Sea Sailing Club (4 boats in a team, as many teams as we wish) Start 11.25.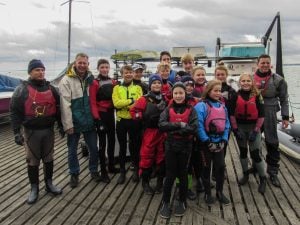 Photo: Last year's Cadets at the 'Matt Dear Trophy' Race
Leave a Reply
You must be logged in to post a comment.