Mar 04 2022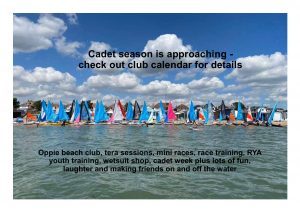 The Cadet season is fast approaching.  
Cadet week planning meetings have commenced and it is hoped the entry forms will be released over the Easter holidays.  This will be advertised via the website, email and Facebook.  If you have any time to offer in the organisation – excel skills, ordering trophies, sponsorship please get in touch.
The cadets are lucky to have many volunteers who are offering a comprehensive programme over the sailing season. Parents are required to stay with their children and assist throughout activities at all times.  All children will require appropriate clothing and a buoyancy aid.  It is advisable for parents to also have a wetsuit and in cadet week a buoyancy aid is required for all adults. 
Oppie beach club led by Adam Clarke for new and younger cadets – learning basic skills and water confidence very close to shore. The first session is the 2nd April at 11.30.  Please watch out for information via Facebook and the website.  Families can access the club Oppies, learn to rig them etc and if confident can be borrowed at your convenience. 
Andras Gal is the cadet sail training officer and Nick Alston the Cadet racing officer – their contact details are on the website.  They run a comprehensive programme for cadets starting with race training on the 3r April.  Other sessions will include mini races and tera sessions.  Please chat with Nick and Andras if you need further information or you are unsure which sessions are suitable for your child. There will also be limited places on the RYA youth training.  
If parents are new to sailing you might want to catch up with the adult sailing support for beginners via facebook and zoom recordings which have been very beneficial for our novice adult sailors – you can catch up and join in from now.
The club calendar can be found here 
https://www.tbyc.org/wp-content/uploads/2022/02/TBYC-Programme-2022-WEBV1.pdf 
Which is also located on the sidebar under "Whats On"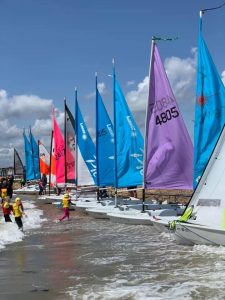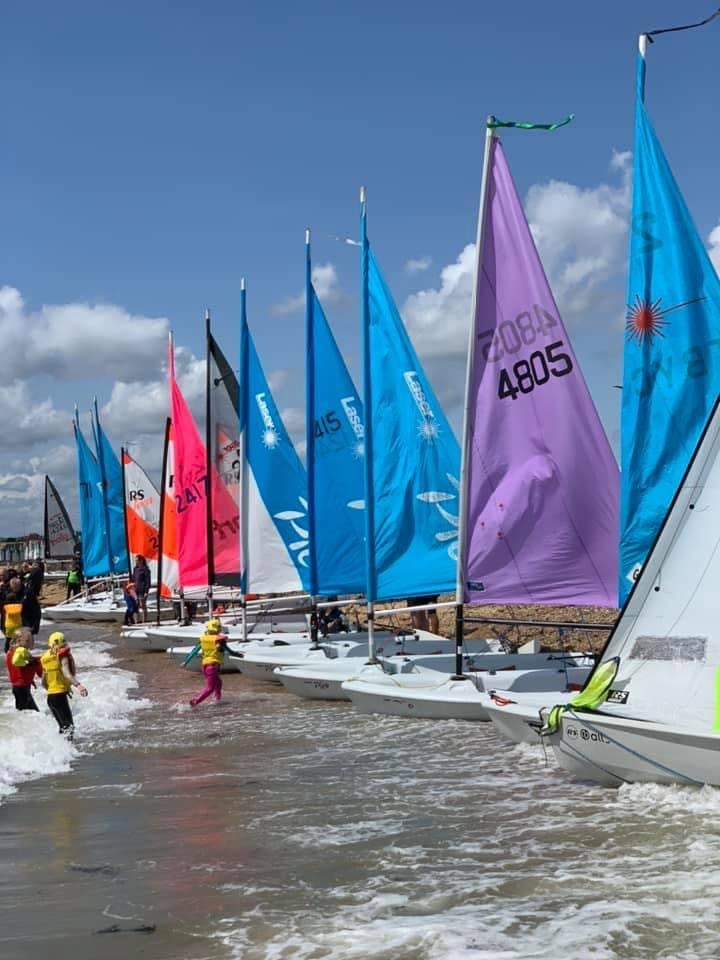 Please remember that parents remain responsible for their children at all times.  Please leave the club as you would wish to find it and remember to throw rubbish away (sweet wrappers, crisp packets and cans) and ensure that children are not running around in the club house or car park.  Children must NOT play down the side of the club where the RIBS are stored at any time.  We encourage everyone to be kind and courteous to fellow cadets, adults, our neighbours, visitors and the general public.  Please familiarise yourself with the parents charter to ensure that the club is a safe and happy place that can be enjoyed by all members
https://www.tbyc.org/wp-content/uploads/2021/03/PARENT-CHARTER-TBYC-FEB21.pdf  and also located under "Safeguarding Policies on the sidebar"
I will advertise a date for the first wetsuit shop of the season shortly.
Don't forget the working party tomorrow, 5th March 10-12noon
Looking forward to seeing you all soon weather on the beach, on the water or in the club.
Lindsay Rainbow – Cadet Rep
Leave a Reply
You must be logged in to post a comment.