Oct 11 2016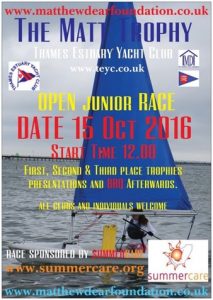 TBYC Cadets – The Matt Trophy – Saturday 15th October at Thames Estuary Yacht Club
URGENT: We need to know who is attending this race by tomorrow (Friday) at the latest to arrange a support Rib to safely escort Cadets to and from the event.
Please confirm your or your son's/daughter's attendance (a confirmation will presume parental permission):
Older Cadets: [email protected] or phone/text 07815 113459
Younger Cadets:  [email protected]  or phone/text 07875 204343
The event is open to all Cadets, all abilities and class of boat. There are trophies for all competitors and overall winners.  The prize giving will be immediately after the race at Thames Estuary Yacht Club.
We will co-ordinate the entry requirements and escort Cadets around the Pier to the start of the Race.  Smaller dinghies will need to make their own arrangements to TEYC , phone Andras for more details.
At the end of the race, those sailing back will be escorted to TBYC.  Sailors will need to keep together irrespective of speed of boat etc.
Timings – Race start 1200 (Mass Start, 5, 4, 1 minute GO –  Trapezoid course) Committee Boat start – No entry fee

Leave TBYC beach at 10.45 am (weather dependent) updated nearer to the time, Pico's etc. will meet on the water at Thames Estuary Yacht Club at 11.30, sail to TBYC Support boat for advice etc.
Original post – http://www.tbyc.org/racing/thorpe-bay-yacht-club-cadets-the-matt-trophy-15th-october/