Mar 29 2018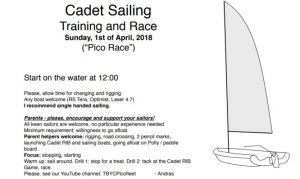 Cadets and Parents!
Sunday Cadet Sailing:
Training and Race Sunday, 1st of April, 2018 ("Pico Race")
Start on the water at 12:00
Please, allow time for changing and rigging.
Any boat welcome (RS Tera, Optimist, Laser 4.7)
I recommend single handed sailing.
Parents – please, encourage and support your sailors!
All keen sailors are welcome, no particular experience needed.
Minimum requirement: willingness to go afloat.
Parent helpers welcome: rigging, road crossing, 2 pencil marks, launching Cadet RIB and sailing boats, going afloat on Polly / paddle board
Focus: stopping, starting
Warm up: sail around. Drill 1: stop for a treat. Drill 2: tack at the Cadet RIB
Game, race.
Please, see our YouTube channel: TBYCPicofleet – Andras
Leave a Reply
You must be logged in to post a comment.