Apr 23 2015
New Cadet Racing

The new course is aimed at all Cadets who can sail and to wish participate in a race with a shorter course, more laps over a reduced time.
There will be prizes for the older cadet as well as the less experienced sailors. A coach in a dedicated Support Rib will support the races.
Races will be raced under the TBYC Sailing Instructions. http://www.tbyc.org/wp-content/uploads/2015/04/TBYC_2015_SI.pdf
Your guide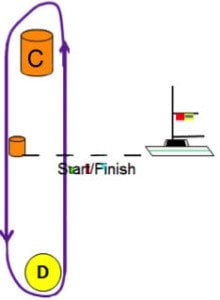 There will be an optional briefing at 16.00 (1 hour before start.) There are two races but you can choose only to one if you wish.

The race will be a windward leeward course starting at the committee boat. It will be the second start with the Fast and Slow Monohulls at 17.03. (Time plus 3 minutes).
First check the number of laps on the blackboard at the top of the slipway and / or check with Support Rib on the water. Your race does not use a shortened course.
Once on the water, go to the Committee boat and look for the last number on the BACK of the boat, which indicates D on the diagram / or check with Support Rib on the water.
On the starting signal, you will cross the line and beat to the CADET BUOY, which is a special buoy marked with a C. This will be your windward mark, leave to Port.
Run or reach down to the course. You must NOT go through the line on the downwind leg (as in the sailing instructions).
Beat up through the line and onto the Cadet buoy and continue until the displayed number of laps are completed.
As you cross the line the committee boat will record your time. They will not give you a signal. The Support Rib will blow a whistle unless is needed elsewhere.
On Sunday there are two races. You can do both, but you will need to wait for the second race to be started. Check out the number of laps with the Support Rib.
Leave a Reply
You must be logged in to post a comment.