Jul 17 2022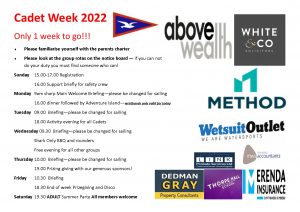 Cadet Week 2022 is almost here.  It is looking like the weather is going to be great and we are looking forward to a fantastic week!
Please note that the carpark at the front of the club will be closed after sailing on Saturday 23rd July to allow the marquee to be assembled and for the rest of the week..
We will operate a one way system through the dinghy park during the day and members are asked to leave via the council carpark to avoid bottle necks at the end of the day.
Please park considerately in the grass carpark especially on Tuesday for the activity night as some of the field will be reserved for the bouncy castles.  We DO NOT have use of the overflow carpark.  If you park in there you will need to purchase a ticket.
It is your responsibility to cross the road and cycle lane safely with your cadet.  Please use the island when possible.
The East grass area in front of the dinghy is for ribs and rib trailers only – no rigging boats please
The following will be circulated via email and displayed in the foyer
Parents charter
https://www.tbyc.org/wp-content/uploads/2022/05/PARENT-CHARTER-TBYC-MAY22.pdf
Programme for the week
Volunteer rotas – bosun's hut to follow
Children's groups will be displayed in the foyer next weekend.
If you have offered to help with pottery painting or supervising bungee run please add your name to the list in the foyer.
Once again a massive thank you to all our sponsors and the parents and volunteers who are essential to the smooth running of the event.
Looking forward to seeing everyone at registration on Sunday 24th July between 3-5pm
Many thanks
Lindsay Rainbow
Cadet Representative
Leave a Reply
You must be logged in to post a comment.