Oct 11 2017
A lively group of Cadets competed in the 7th Annual Matt Dear Trophy held at TEYC. The heavy winds and particularly the gusts were going to make the day difficult. However, 13 eager Cadets faced the challenge and managed a good start. Luke and Sam in the RS Feva claimed clear wind and were in second place on the line. They continued to sail well throughout the race, despite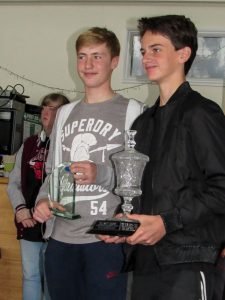 Luke being swept out the boat and managing to skillfully climb back aboard! Our sailors aged from 10 to 15 years old, tackled the rolling waves and with a few token capsizes completed the 3 laps of the course. Luke and Sam, won on handicap becoming The Matt Dear Trophy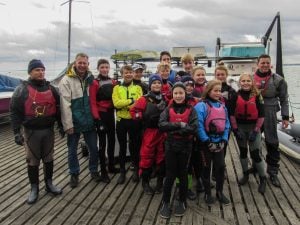 Champions.
We are again very proud of our TBYC Cadets for their participation and sterling effort, whilst also representing our club.
Thank you to Ian and Sue Simpson at TBYC for organising and hosting the event.
Here is an article written for Y&Y http://www.yachtsandyachting.com/news/198969/7th-annual-Matt-Trophy
This annual charity race was first held in 2010 in memory of Matthew Dear, who tragically passed away in 2009. The aim of the charity is to raise awareness of the dangers of anabolic steroids and appearance and performance enhancing drugs. See www.matthewdearfoundation.co.uk for more information.
Leave a Reply
You must be logged in to post a comment.